News
On the 7th of July 2022, Taoufik Sousak gave a presentation on the TRUSTID project as an invited talk to the APPS workshop held in conjunction with ACM UMAP 2022. This workshop focuses both on academia and industry and aims to attract the attention of an interdisciplinary audience between researchers and professionals working in the field of Usable Privacy and Security, Adaptation and Personalization, User Modeling, Human-centered Computing, and User Experience. It will bring together scientists, students, privacy and security professionals, ICT professionals, service providers and developers, designers, and end-users to exchange and share their experiences, new ideas and research results about all aspects (theory, applications and tools) of bringing UMAP-related aspects into privacy and security systems.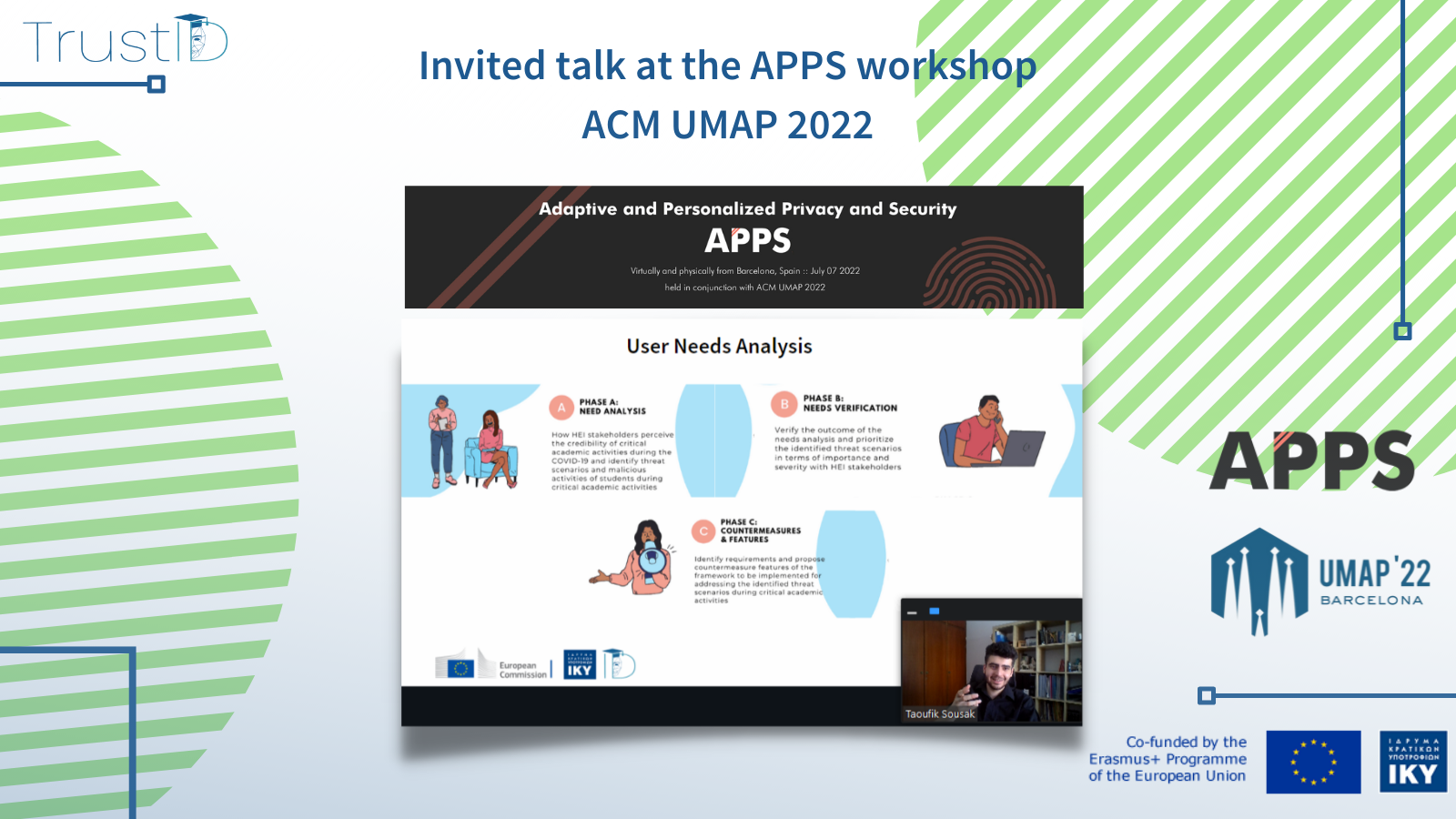 ---
On the 24th of June 2022, the partners had their 3rd transnational meeting, hosted by the Institute of Systems and Robotics - University of Coimbra (Portugal). Among other things, the agenda included updates on the main outcomes, current status and planning of the Intellectual Outputs 1-4, fruitful technical discussions and an update on the dissemination plan of the project.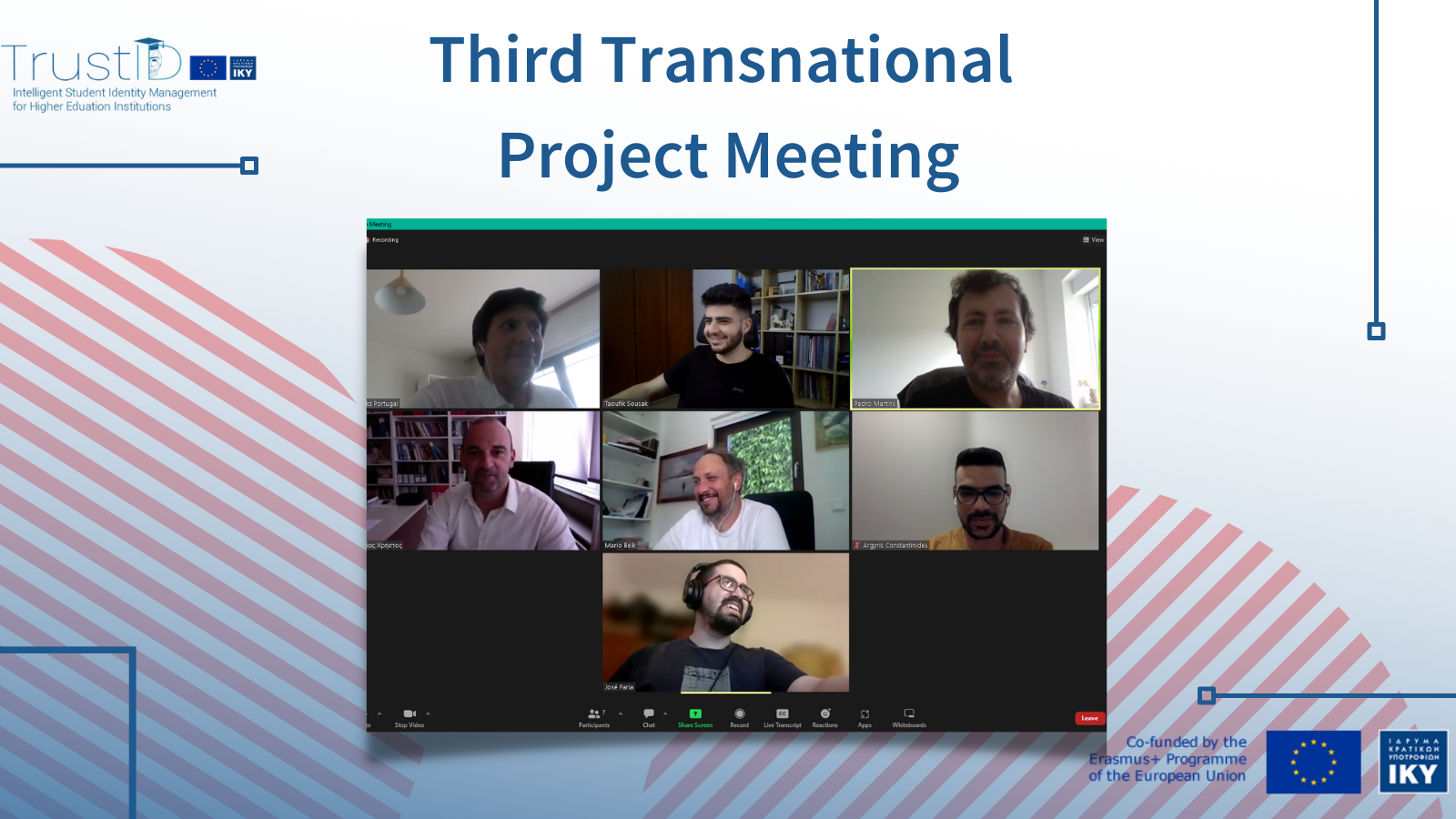 ---
The first version of the TRUSTID Knowledge Repository and TRUSTID Community Forum are live. The knowledge repository will continuously updated throughout the course of the project with new material and knowledge that relate token_get_all educational, training and course material, such as, ethical guidelines and data privacy aspects with regards to identity management, biometrics, information about TRUSTID solution design, implemented algorithms and open-source code of the TRUSTID system and tools.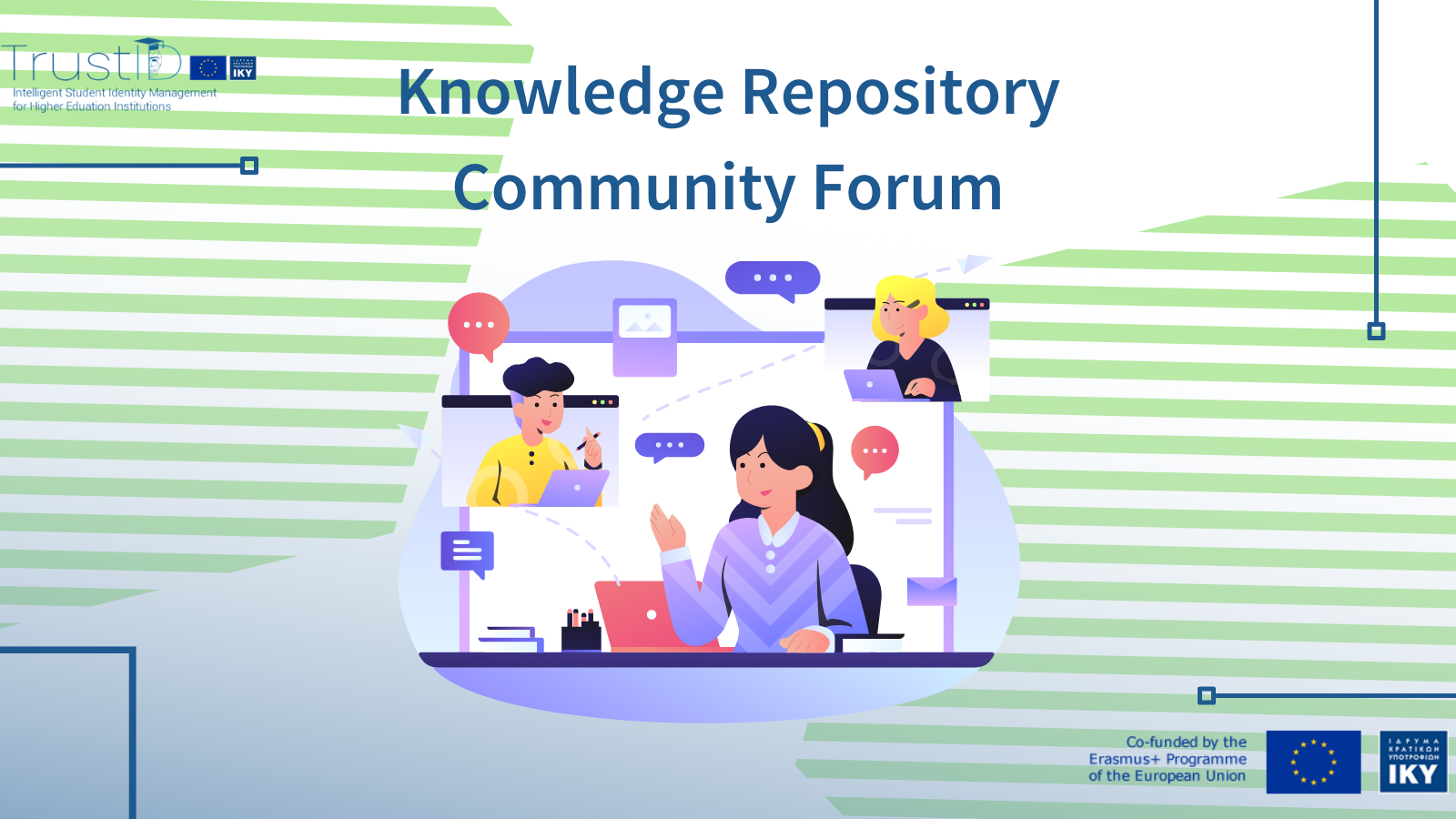 TRUSTID Knowledge Repository
::
TRUSTID Community Forum
---
TrustID already launched the primary tests of initial software with 150 participants and we can't wait to see the results of the ongoing study.
The participation of so many volunteers clearly indicates that a need for use of a proctoring system is widely recognized, which is also supported by the recent research conducted by EDUCAUSE in February 2021. Despite expressed concerns by numerous faculties, students, and administrators regarding the use of proctoring tools and particularly the monitoring of students' behavior, a QuickPoll conducted by EDUCAUSE in April 2020 has already exposed that 54% of 312 surveyed higher institutions is currently using online/remote proctoring tools, whereas additional 23% are planning or considering to apply them.
To verify these initial results among higher institutions, EDUCAUSE conducted thorough research of American (n=1,923) and Canadian (n=232) university websites searching for any indications of a university having a subscription to the proctoring services. The results determined that nearly 63% of colleges and universities in the United States and Canada mention proctoring software, indicating their application. These results prove that the interest of using additional support while online examination not only is widely used but also proves the consistent evolution and adaptation of proctoring software among HEIs.
Aiming to bring the best solution for both, instructors and students, the TrustID project will critically assess the results of the first proof of concept, addressing the feedback received from all our participants.

[1] Royce Kimmons and George Veletsianos, " Proctoring Software in Higher Ed: Prevalence and Patterns," EDUCAUSE Review, February 23, 2021.
[2] Jason Kelley, "Students Are Pushing Back against Proctoring Surveillance Apps," Electronic Frontier Foundation, September 25, 2020; "Students Revolt over Remote Test Monitoring," Washington Post, November 12, 2020; Avi Asher-Schapiro, "'Unfair Surveillance'? Online Exam Software Sparks Global Student Revolt," Reuters, November 10, 2020.
[3] Susan Grajek, "EDUCAUSE COVID-19 QuickPoll Results: Grading and Proctoring,"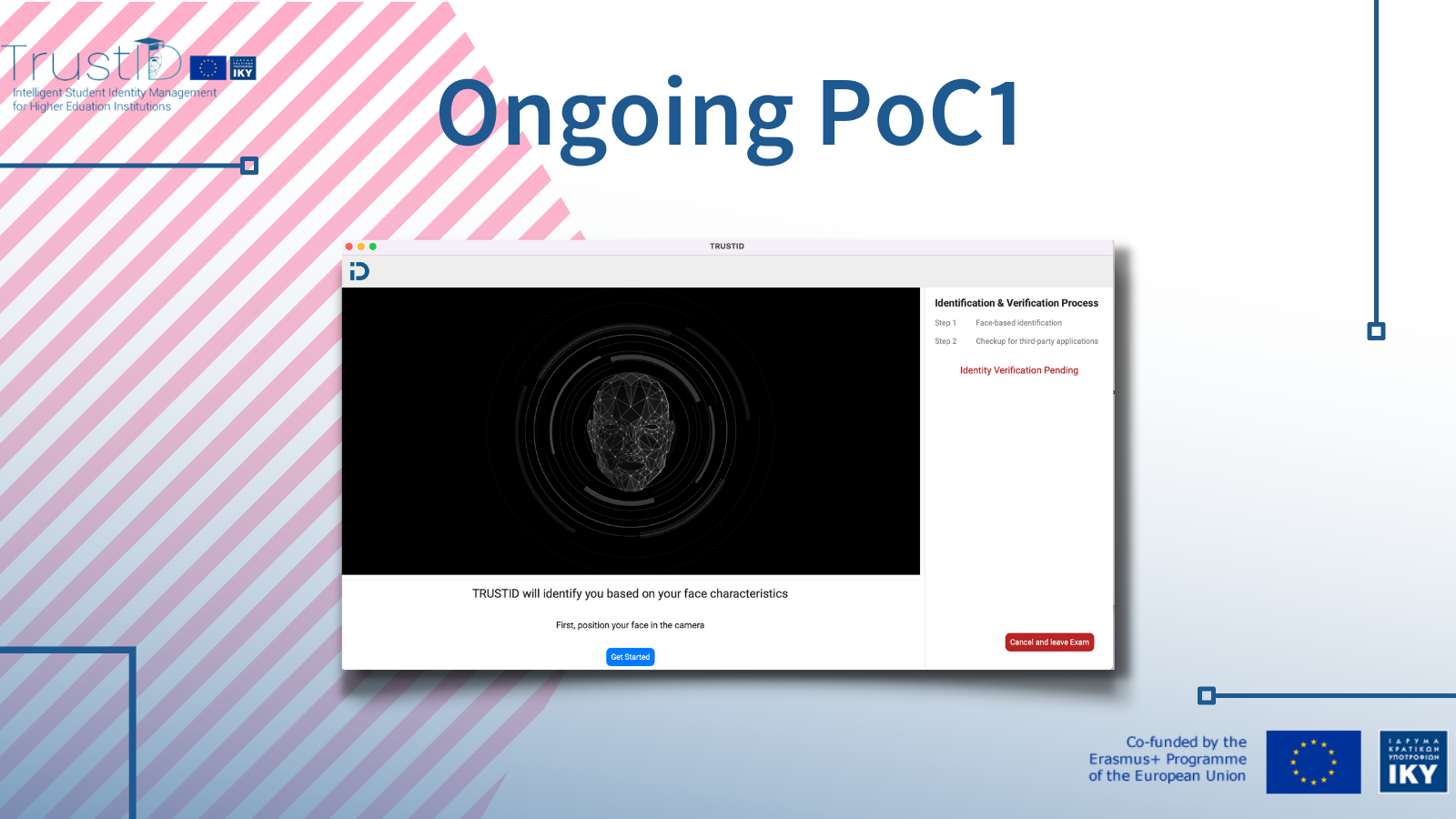 ---
New Year, new challenges! And in TrustID all hands are on deck, or... on software to be precise.
January started busy for TrustID project team, as the work heads towards its first Proof of Concept (PoC1).
In a few weeks, the prototype of TrustID system will be tested with over 150 recruited participants who will evaluate with us the efficiency of the biometric face recognition algorithm and the initial software functionalities during exam-simulation conditions. We are very happy to have so many enthusiastic participants and wish them all productive and fun testing. We will share with you the results of PoC1 soon!
---
Big news! Our TrustID logo has been updated with a new design.
You'll see the new look anywhere we're out in public, like our website, LinkedIn, Facebook, and Twitter. We believe that the new look matches squarely what TrustID represents - a thoughtful technology, which provides credibility at higher education institutions through biometric recognition of students, while better connecting scholars with their students in remote tutoring. A small team behind the project worked together to give TrustID logo an identity that will envision its values and purpose.
The "ID" of the logo, quite evidently, represents biometric identification, while the graduation hat points at the incorporation of destined systems, such as universities. We hope you like this new design. Follow us on Facebook or LinkedIn to find out more about updates of the TrustID project and the way it aims to serve higher education institutions with a modern, secure and trustworthy solution for remote classes.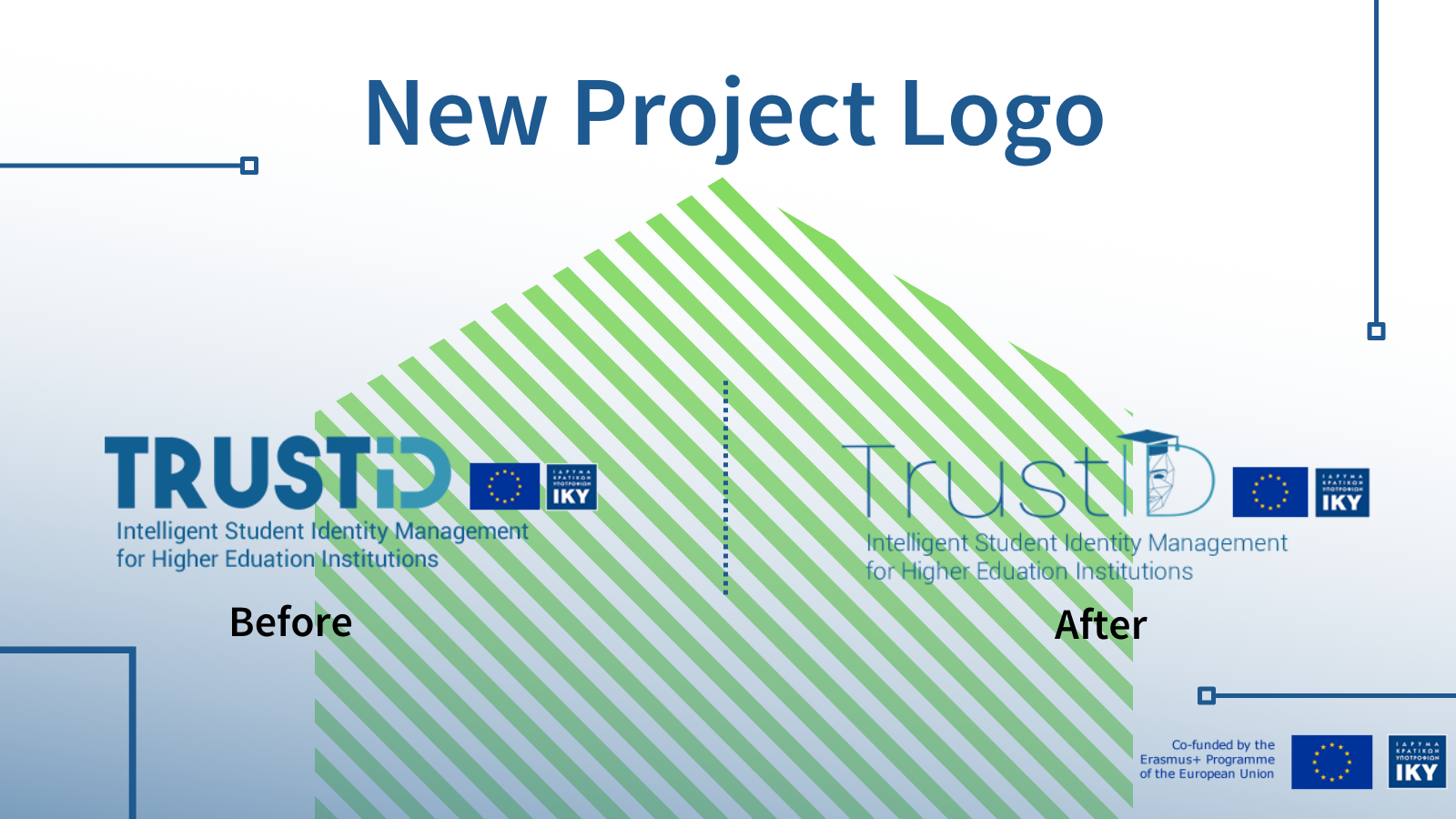 ---
The TRUSTID consortium would like to congratulate the UC Framework team for the "Best Education Project" award won on Tuesday, December 14, 2021, at the Portugal Digital Awards, among the more than 300 applications received. Well done Valentim et al.!
The University of Coimbra wins Portugal Digital Awards: UC Teacher elected best education project.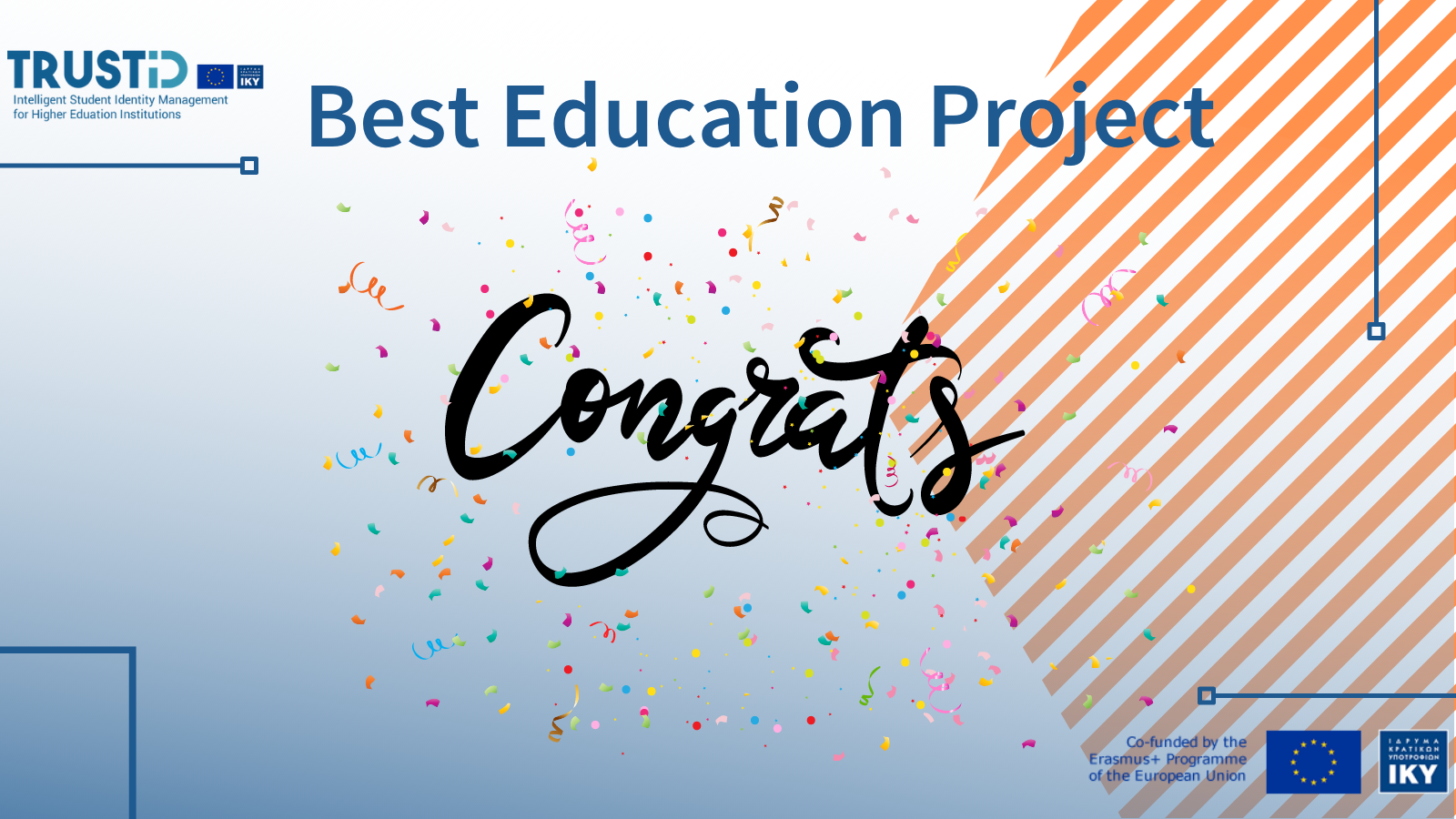 ---
We are happy to announce that our paper titled "Applying Benford's Law as an Efficient and Low-cost Solution for Verifying the Authenticity of Users' Video Streams in Learning Management Systems" was accepted for publication in WI-IAT '21: IEEE/WIC/ACM International Conference on Web Intelligence. The paper presents a Naïve Bayes classifier that predicts the type of the input video stream (authentic vs. pre-recorded) of users interacting with a Web-based Learning Management System, after extracting and analyzing the first digit distributions of the Discrete Cosine Transform coefficients during continuous verification of their identity. Paper DOI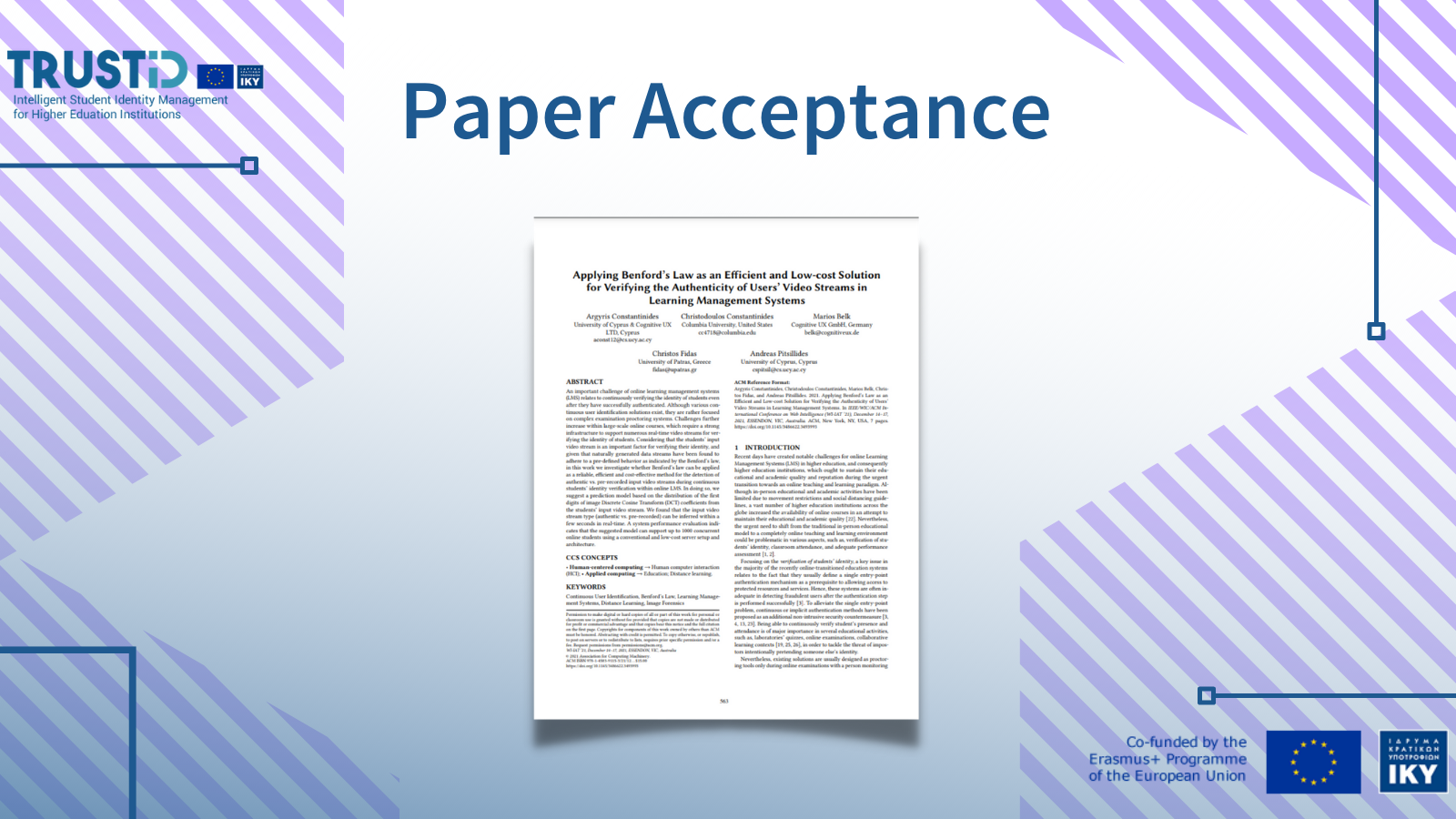 ---
The Covid-19 pandemic has deeply impacted the working lifestyle for the majority of businesses and professions, including education. The student-teacher relation and trust were tested in one of the most challenging ways, and it is likely that there will be ongoing impact even after restrictions are lifted.
Several HEIs inquired through global surveys responded that online learning will continue, starting the era in which education has become globalized. However, as heading towards remote education for many domains might seem like a natural result of the pandemic impact, for many hands-on forms of education it can be more questionable.
In the paper published recently in the IEEE Robotics &amp Automation Magazine, researchers from Jacobs University Bremen have conducted an international survey on the effects of COVID-19 on robotics laboratory courses to examine how instructors handled the challenges of COVID-19 in teaching hands-on robotics courses.
Together with the provided overview, there is evidence of potentially long-lasting impact and expectation among the instructors of changes to become permanent. Furthermore, a vast majority of the survey participants disclosed a switch to online teaching with hands-on elements which will have strong consequences for the used equipment. On the other hand, there is also a significant difference between the students' performance as perceived by the instructors and the actual grades the students received, which are significantly higher than before.
These results clearly indicate the importance of TrustID project, which is already at its final stage of Evaluation Activities (related to IO1). Read full article here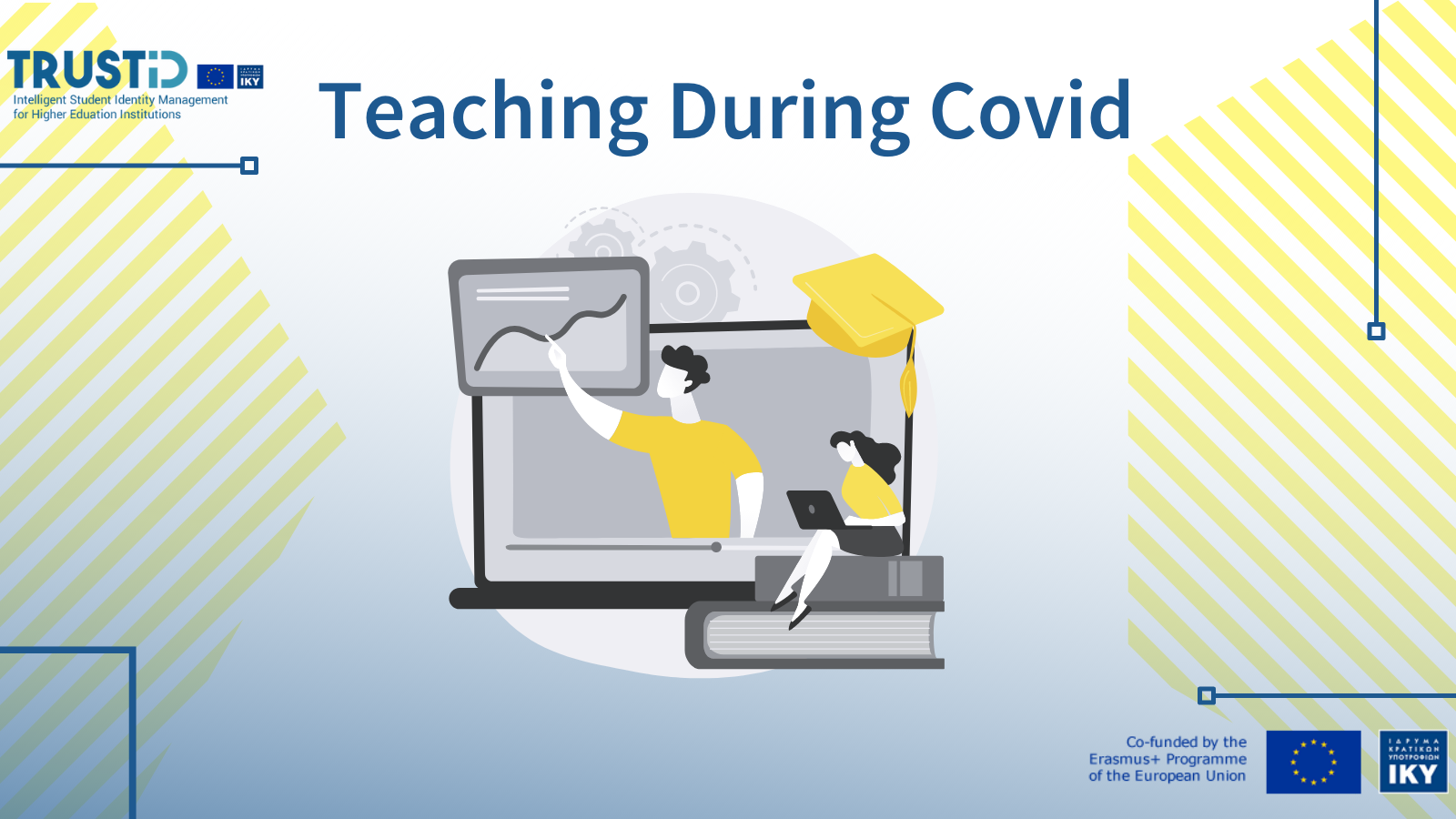 ---
The TRUSTID project is heading towards the end of the first round of stakeholders' requirements elicitation. Last week (26.07-30.07) the team of project partners completed the interviews with stakeholders from the project's partner universities (the University of Patras, Institute of Systems and Robotics - University of Coimbra, University of Cyprus).
The interviews revealed many challenges, but also opportunities that concern continuous identification, data privacy preservation, technical feasibilities, and application scenarios. All have been already addressed and responded to with possible action plans. The team of partners will conduct a detailed analysis of the first choice of priorities followed by drafting a basis for the TRUSTID functionalities and features. This specification of the framework will close the first planned Intellectual Output (IO1) that is assigned to TRUSTID's activities.
The next stage of the project foresees the work related to development and integration activities. This part is an official start of the group of tasks related to the second IO planned for the TRUSTID project.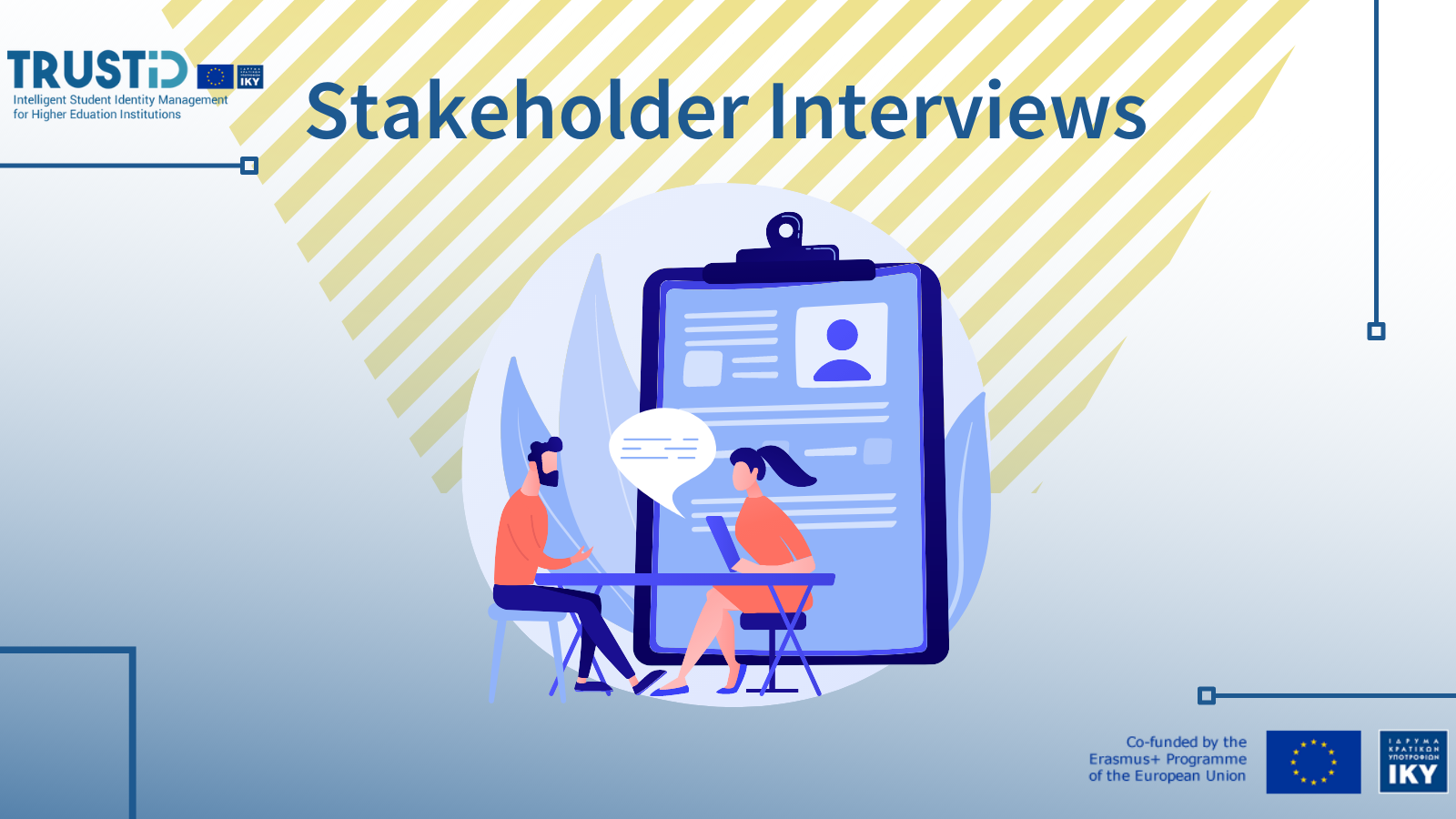 ---
On the 1st of June, the TRUSTID project - Intelligent and Continuous Online Student Identity Management for Improving Security and Trust in European Higher Education Institutions was initially launched with four European partners, the University of Patras (Greece), the University of Cyprus (Cyprus), the Institute of Systems and Robotics - University of Coimbra (Portugal) and Cognitive UX GmbH (Germany).
The project's kick-off meeting was held on June 18th, 2021 as a full day event and was hosted by the University of Patras, whose warm welcoming and introduction of all consortium partners created a friendly atmosphere allowing all the attendees to freely exchange their expertise and opinion.
Please download the kick-off meeting agenda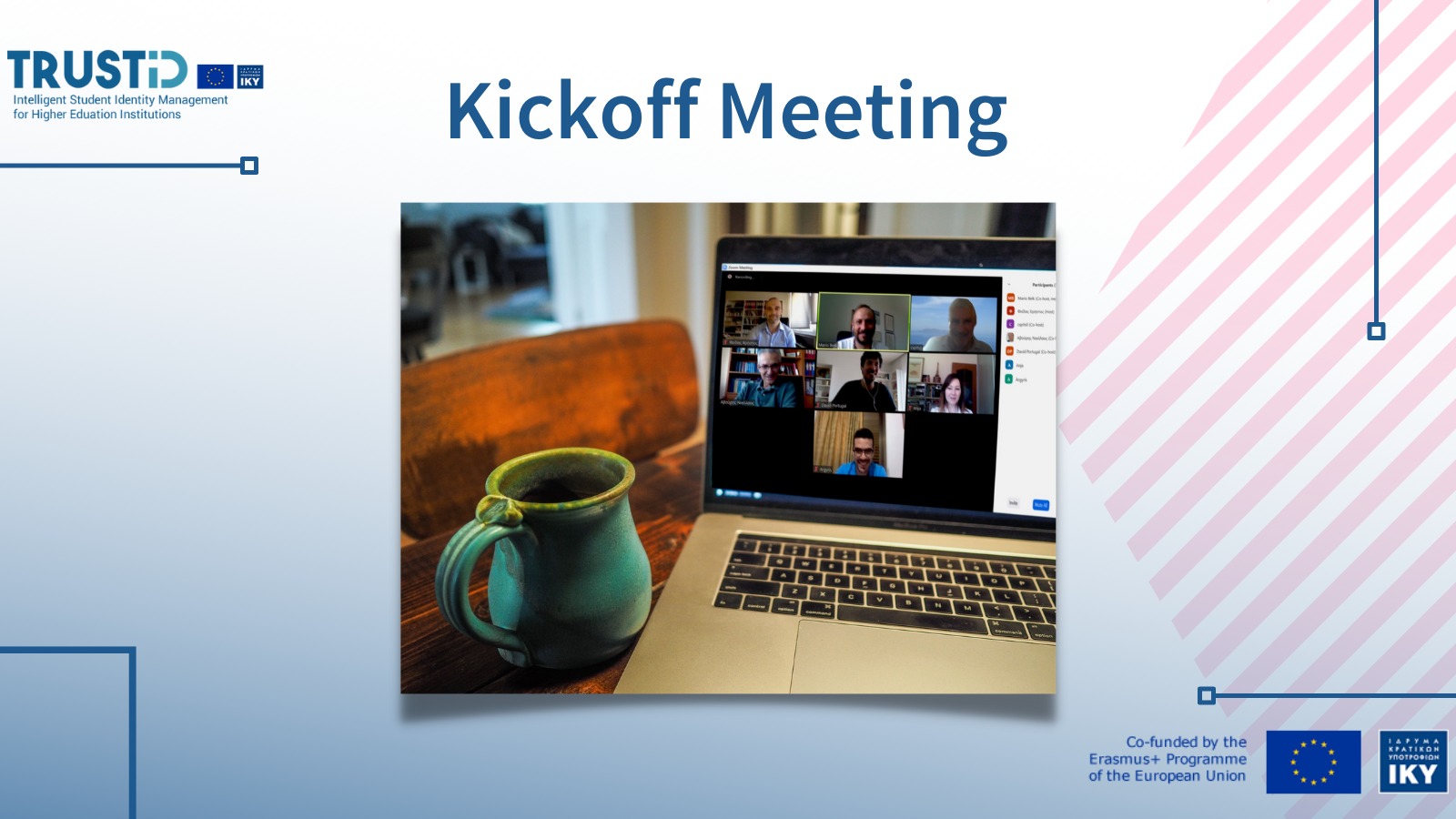 ---
The project has been approved by the European Commission with a total funding of €291,310 and it's duration will span two years (May 2021 - April 2023). The project is coordinated by the University of Patras (Greece), with collaborating partners the University of Cyprus (Cyprus), the Institute of Systems and Robotics - University of Coimbra (Portugal) and Cognitive UX GmbH (Germany).